Zin in een stevige maaltijd dat gezond en voedzaam is maar ook makkelijk te maken? Van spliterwten gemaakte soep kent vele varianten. Zo is de Oudhollandse snert dikker (mede omdat het een dag gestaan heeft), lijkt het meer op pap en wordt het vaak met roggebrood gegeten. In de Verenigde Staten, Canada en Australië kennen ze de dunnere versie. In Scandinavische landen eten ze dit van gele erwten gemaakte winters gerecht het liefst in combinatie met pannenkoeken. In Duitsland en Oostenrijk wordt het van groene erwten gemaakt met een lekkere spek of ham. De traditionele erwtensoep wordt in Nederland vaak met de eerder genoemde spliterwten, prei en knolselderij gemaakt. Of met ui, wortels en aardappelen. Met rookworst, spek, vegetarisch of koolhydraatarm. Sta je ook open voor een moderne of andere variatie van oma's erwtensoep recept? Wij hebben de 5 beste bereidingsmethodes op een rij gezet. Dat wordt lekker smullen!
Erwtensoep met kip
Een klassieker met een twist maak je met bijvoorbeeld kip in plaats van rookworst of katenspek. Hierdoor geniet je binnen 80 minuten van een lichtere maaltijd met meer groente, maar minstens evenveel smaak. Wat je nodig hebt? Onder andere kipfilet, kipbouillon, pastinaak, knolselderij en natuurlijk het recept. Het laatste is te bereiken met een klik op de foto.
Erwtensoep met zoete aardappel en gerookte kip
Net als pompoen gaat ook dit traditioneel wintergerecht met de tijd mee en kent het talloze variaties. Is de bovengenoemde slanke versie niet helemaal je ding? Ga voor de ouderwets stevige erwtensoep. Zoals deze met zoete aardappels in plaats van aardappels en gerookte kip als vlees. Lekker dineren of stevig lunchen met een snee roggebrood en katenspek.
Erwtensoep uit de slowcooker
Ben je een bezige bij en kom je handen tekort of juiste een luie keukenprinses, maar wil je wel lekker snerten met je gezin? Voor dit recept maak je gebruik van een slowcooker. Je spoelt de spliterwten af en laat ze 24 uur lang weken voor je aan de slag gaat. Maar het resultaat is absoluut de moeite waard.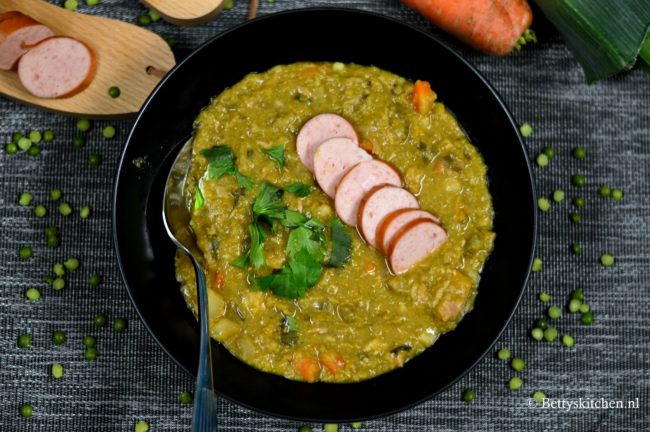 Erwtensoep met chorizo
Als het met katenspek of rookworst, (gerookte) ham of kip kan, waarom dan niet met krokante chorizo worst. Een in 75 minuten te bereiden snert die je 1 tot 2 dagen vooraf maakt en apart (soep apart, uitgebakken chorizo apart) in de koelkast bewaart tot vlak voor serveren. Om je vingers bij af te likken!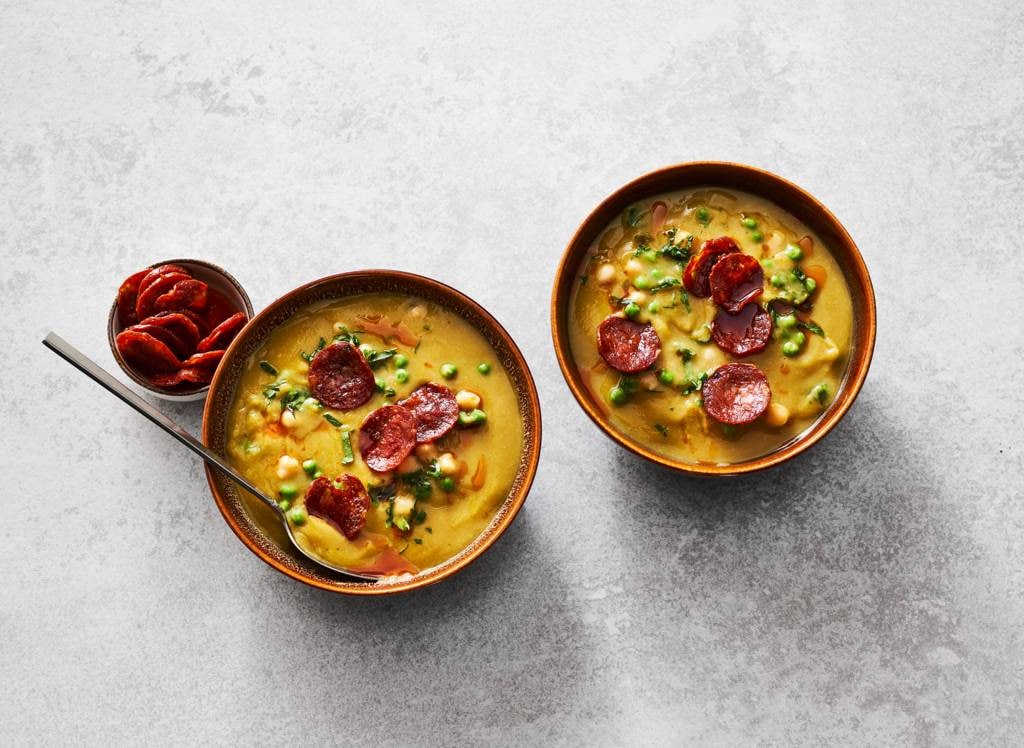 Erwtensoep met gerookte zalm en munt
Hoe maak je een simpele bord erwtensoep luxer? Door vlees te vervangen door vis en hier wat munt aan toe te voegen. Dit recept is licht genoeg om in de zomer te eten maar ook weer niet te slank om hier tijdens de koude winter- of feestdag van te genieten. Een restaurant waardig gerecht op tafel zetten tijdens Kerst is soms makkelijker dan je zou denken.