Zodra je kind de basisschoolleeftijd bereikt beland je in de wereld van de Cito-toetsen en AVI-lezen. Maar wat is AVI eigenlijk? Wat betekenen de AVI-niveaus? Zit je ook met vragen als: Welk leesniveau heeft mijn kind en hoe wordt dit bepaald? Mijn kind heeft een hekel aan lezen, wat kan ik doen? Kortom alles wat je moet weten over AVI-lezen lees je in dit artikel.
Leestip!
Boekenpret | De mooiste kinderboeken van april
Boekenpret | De mooiste kinderboeken van februari
Aandacht voor Dyslexie | Uitgeverij Zwijsen en Disney bundelen de krachten
Poes moos gaat naar school AVI M3
Huiswerk maken | Tips voor ouders
Het proces van kind leren lezen en AVI-Start boeken
AVI-niveau 
Analyse Van Individualiseringsvormen staat beter bekend als AVI. Al tientallen jaren wordt hiermee het (technisch) leesniveau van schoolkinderen getoetst en bepaald. In principe is het zo dat elk boek een AVI-niveau heeft. Voor veel boeken is het alleen niet van belang en dus staat het er niet op vermeld. Voor kinderen bij wie lezen volop in de ontwikkeling is dit wel belangrijk. Welk leesniveau zou jouw kind moeten hebben? Waarom en hoe dat wordt bepaald? Wat als het kind niet in 'het hokje' past? Wat zegt het leesniveau over je kind? Leestip: Wetenschappelijke verantwoording LVS toetsen AVI
AVI-niveau van het boek
Elk uitgeverij kan een leesboek naar CITO sturen voor een meting volgens het AVI-systeem. Daar wordt door een computerprogramma onder andere gekeken naar lengte van de woorden en moeilijkheidsgraad. Zo wordt het AVI-niveau van het boek bepaald.
Leesniveau kind
Het leesniveau van je kind wordt op school getoetst en door de leerkracht bepaald.
Het is wel belangrijk om te weten dat deze AVI-niveau aanduiding een richtlijn is. Het gaat om wat het gemiddelde kind op een bepaalde leeftijd zou moeten kunnen. Is jouw kind net 6 maar leest het moeiteloos een AVI-E4-boek? Of je kind is 9 en leest AVI-M5? Het kan. Dit kan door verschillende dingen worden beïnvloed, maar daar kom ik later op terug.
Hoewel AVI als richtlijn wordt gezien voor het leesniveau van het kind wordt hiermee maar de helft ermee bepaald. Nog voor technisch lezen wordt getoetst, wordt er eerst een DMT gedaan. Dit gebeurt op het moment dat de kinderen echt leren lezen, zo aan het begin van de tweede helft van groep 3. Dit is een Drie-Minuten-Toets waarbij het kind zo snel mogelijk losse woordjes correct moeten oplezen. Met AVI toetsen de leerkrachten de leestechniek. Dus hoe snel het kind foutloos een stuk tekst kan lezen. Cito LeesIndex voor het Basis-en speciaalonderwijs oftewel CLIB-niveau staat voor begrijpend lezen. Hiermee wordt dus gekeken naar hoe goed het kind het gelezen verhaal begrijpt. Moeilijkheidsgraad van CLIB staat gelijk aan AVI en daarmee aan het schooljaar. Zowel DMT, als AVI en CLIB zijn een onderdeel van het Leerling Volg Systeem opgesteld door de CITO. De AVI-toetsen van CITO worden twee keer per jaar afgenomen op school. Op deze manier wordt het leesniveau van het kind getoetst en bepaald. Wil je weten welk leesniveau je kind heeft? Vraag dit dan aan de leerkracht.
AVI-niveau per jaar
Hoewel de kinderen in groep 1 en 2 al spelenderwijs kennismaken met de letters en cijfers, begint lezen pas in groep 3. De eerste maanden van het schooljaar zijn de kinderen bezig met de letters leren. Zo rond de Kerst start de gemiddelde leerling met lezen. Korte makkelijke veelvoorkomende woorden, grote lettertype, geen hoofdletters. AVI-start is voor de beginnende lezers. Moeilijkheidsgraad gaat daarna 2 keer per jaar een stukje omhoog en sluit aan op de toetsresultaten van de Cito leesvaardigheidstoetsen.
Alle AVI-niveaus hebben een letter en een cijfer. De letter staat voor Medio of Eind van het schooljaar. Het cijfer voor het schooljaar. Behalve het eerste en het laatste AVI-niveau, namelijk AVI-Start en AVI-Plus. Het laatstgenoemde ken je misschien ook wel als AVI-uit. Hiermee wordt aangegeven dat het kind het leesniveau heeft van Middelbare school.
Het kan zijn dat je op bepaalde boeken een andere aanduiding treft. Dit heeft te maken met het feit dat het AVI-systeem in 2008 is vernieuwd. Hieronder een overzicht.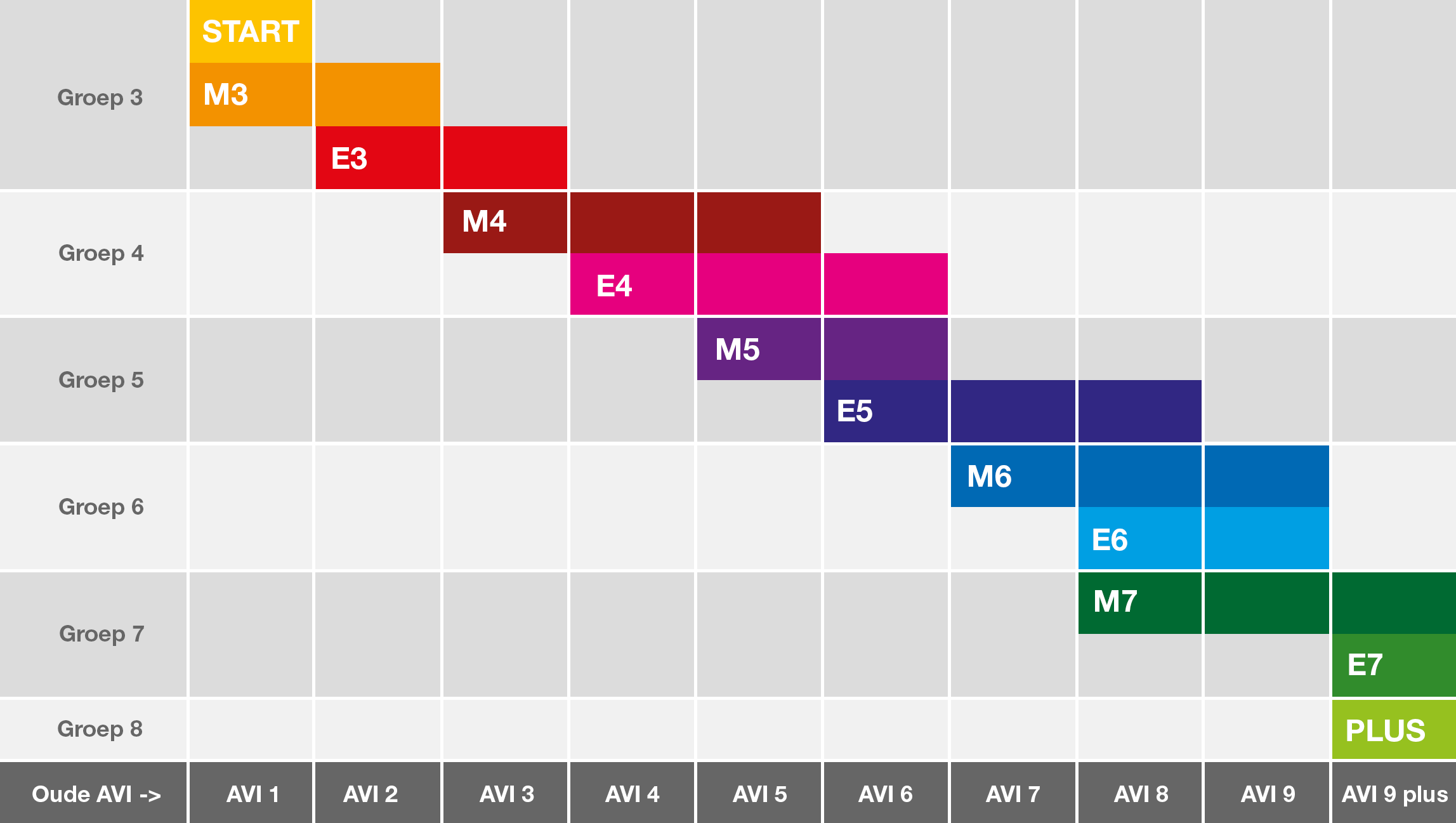 Lezen stimuleren
Heeft je kind moeite uit zichzelf te gaan lezen? Hieronder een aantal fijne tips om je erbij te helpen.
♦ Weet waar de interesses van het kind liggen en ga voor een boek dat in de belevingswereld van het kind past. Is jouw kind er nog niet over uit waar hij voor warm loopt? Bied dan regelmatig verschillende soorten boeken aan. Zo kun je kiezen voor een informatief boek, maar ook verhalend, strip of doeboek. Is je kind dol op poezen bijvoorbeeld ga dan voor Een huis voor poes pip AVI M3. Is je kind meer auditief ingesteld, kies dan voor een luisterboek zoals GVR van Roald Dahl. Op deze manier wordt het visuele ondersteund door het auditieve.
♦ Heeft het kind het boek gevonden wat hij graag wil lezen, kijk daarna naar het AVI-niveau. Is het boek te makkelijk of juist te moeilijk volgens het AVI-niveau, maar je kind wilt het heel graag lezen, doen. Het gaat om het lezen. AVI-lezen. Het leesniveau van het kind gaat niet achteruit wanneer hij een makkelijker boek kiest. Dit is overigens bewezen. Liefde voor lezen groeit door boeken te lezen die je interessant vindt. Dat komt de leesontwikkeling altijd ten goede.
♦ AVI-lezen stimuleren doe je door voor te lezen,samen te lezen, belonen en het goede voorbeeld te tonen. Dwingen en straffen werkt averechts. Heeft het kind geen zin om een boek te lezen maar vindt hij koken wel super leuk? Pak het receptenboek erbij. Ook dat is lezen 😉
♦ Beloon het kind. Een kwartier langer opblijven of na het AVI-lezen van het boek de verfilming zien. Help het kind de wondere wereld van boeken te ontdekken en de liefde voor lezen te vinden.