Op 31 oktober is het Halloween. Een van oorsprong Keltische traditie op de dag dat destijds nieuwjaar werd gevierd. Het feestdag met de naam Samhain draaide om het geloof dat doden op de genoemde dag herrijzen. Later namen de afstammelingen het feest mee naar de Verenigde Staten dat in de loop der jaren een eigen draai kreeg.
Via de Verenigde Staten, Verenigde Koninkrijk, Ierland en Canada wordt het ondertussen ook in de rest van de wereld gevierd. Zo kent Mexico de Dag van de Doden ook wel bekend als Día de los Muertos. De kinderfilm Coco geeft hier een goed beeld van. In Japan draait alles om overledenen eren door ceremonische dansen en bedevaarten naar de graven van familieleden. In Nederland en België hebben we ons vooral laten beïnvloeden door de commerciële films rondom deze heksendag en lijkt de viering veel op die van St.Maarten. Dat betekent dat kinderen zich spookachtig verkleden en langs de deuren gaan met Trick or Treat om snoep op te halen.
Omdat dit griezelfeest steeds populairder wordt zie je dat er ook steeds meer thema uitjes, feestjes en activiteiten worden georganiseerd voor jonge kinderen, tieners en volwassenen. Organiseer je een kinderfeestje voor je jarige zoon of dochter? Is je kind dol op verkleden en griezelen? Dan ben je hier op de juiste plek. Wij hebben een aantal te gekke Halloween activiteiten en spelletjes voor grote en kleine kinderen op een rij gezet om het feest compleet te maken.
Leuke Halloween spelletjes
Er worden steeds leukere Halloween spellen op de markt gebracht. Spellen met enge spoken, akelige monsters, schrikwekkende vleermuizen, afgrijselijke spinnen, vreselijke heksen en beangstigende pompoenen, maar dan geschikt voor het hele gezin. Dit zijn volgens ons de allerleukste.
Spookslot
Ken je de klassieker Spookslot? Grote kans dat je het vroeger zelf speelde. Dit bordspel is nu in een modern jasje opnieuw uitgebracht door 999 Games in de vorm van een uitdagend 3D kasteel met prachtige afbeeldingen, boobytraps en glow-in the-dark elementen die voor extra plezier zorgen voor jong en oud.
Geschikt voor:  6+
Aantal spelers: 2 tot 6 spelers
Speeltijd: 25 minuten
Een andere leuke variant hierop is Spookhuis.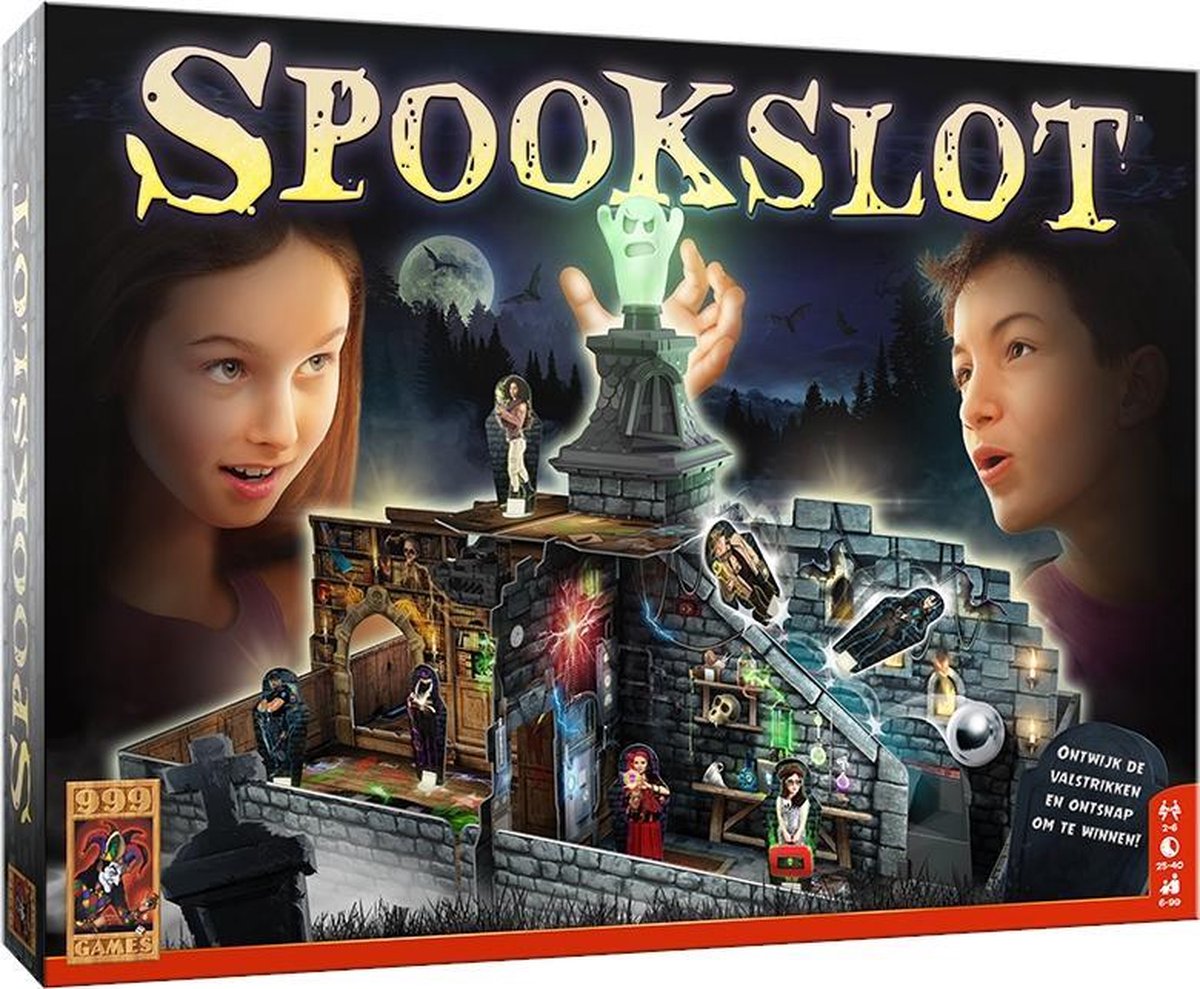 Vlotte Geesten
Nog zo een klassieker dat bekend staat om zijn eenvoud en tegelijkertijd boordevol plezier. Het kaartenspel waarbij je het spook een handje moet helpen door voorwerpen op de plaatjes te benoemen? Je hoeft alleen razend snel te reageren met het juiste antwoord. En juist dat maakt spelen mega leuk en spannend.
Geschikt voor:  6+
Aantal spelers: 2 tot 8 spelers
Speeltijd: 20 minuten
Een andere leuke variant is Geestenvlucht.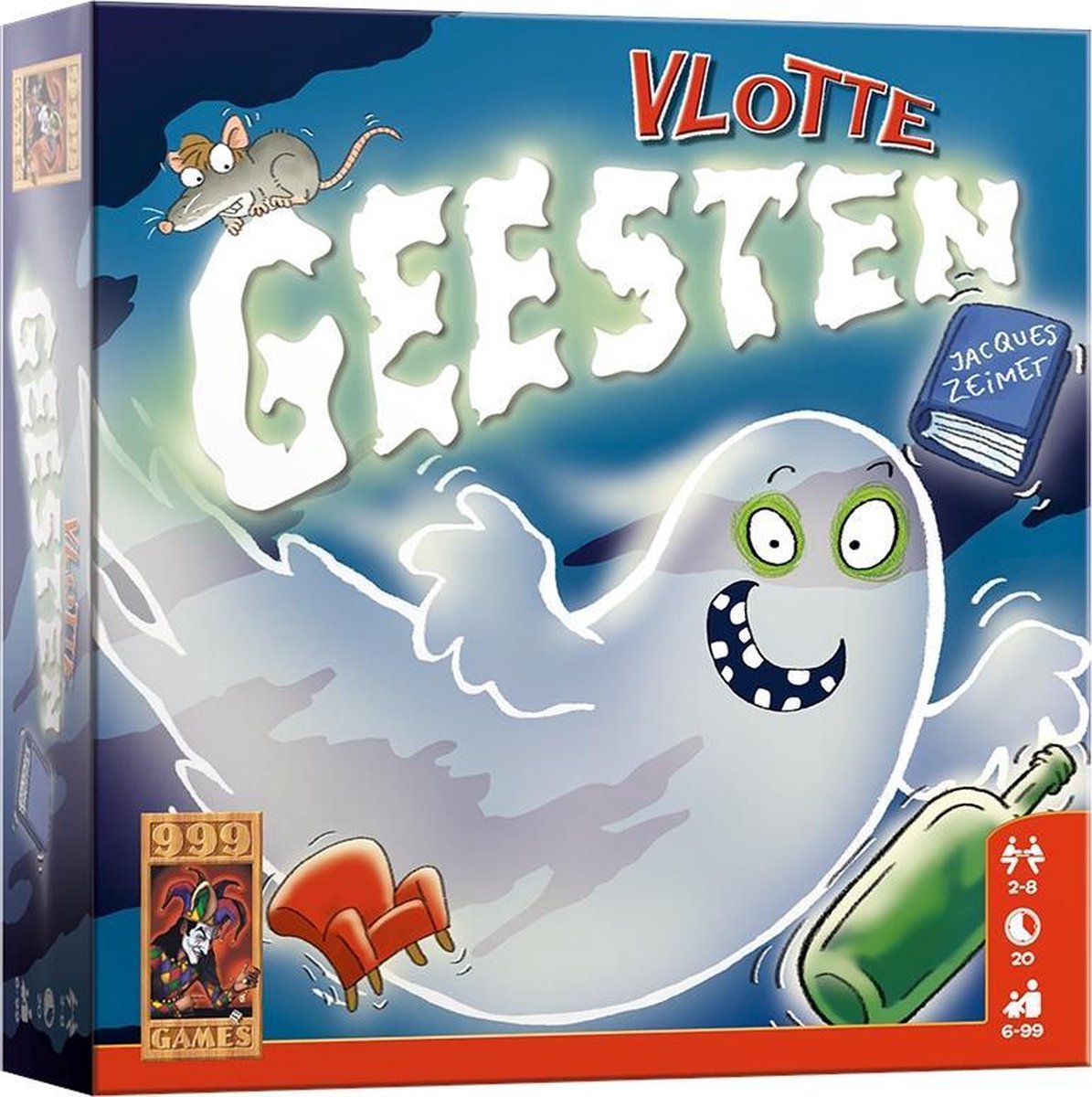 Monstermeppen
Een heerlijk behendigheidsspel waarbij je de ontsnapte monsters moet tegenhouden door erop te meppen. Dat doe je aan de hand van de monstermixer want alle monsters lijken zo ontzettend veel op elkaar.
Geschikt voor: 5+
Aantal spelers: 2 tot 4
Speeltijd: 20 minuten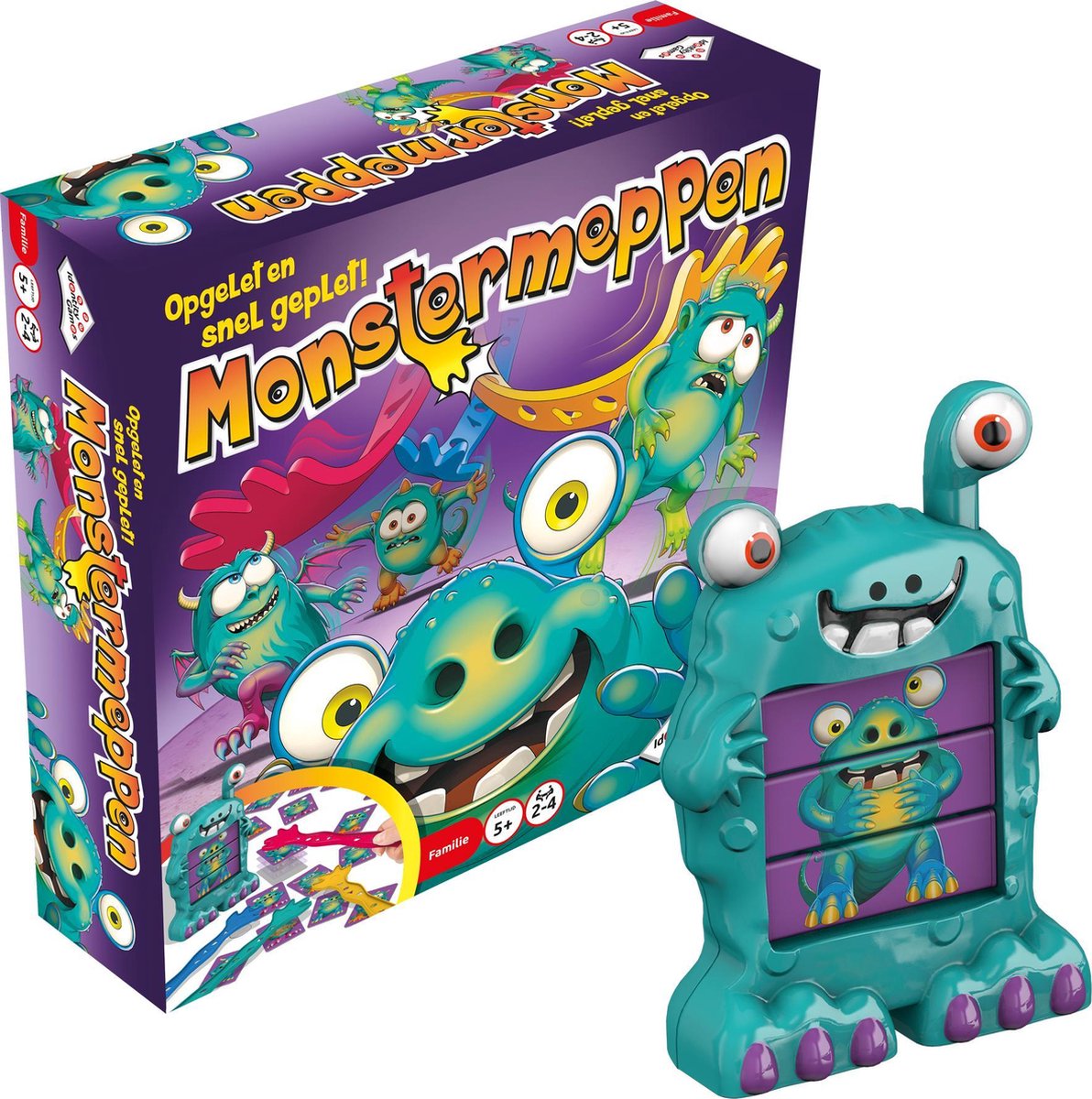 Griezelgraf
De nachtwacht van het kerkhof heeft Oscar in een kist gestopt. Hij bewaakt het met zijn leven. Om Oscar te helpen ontsnappen moet je ongezien de brandende (elektronische) kaarsen uitblazen door onder de tafel te duiken bijvoorbeeld. Word je wel gezien dan kleurt je kaars rood en kan je tijdelijk geen punten scoren. Op het moment dat Oscar uit de kist stapt brand de kaars van zijn redder en winnaar van het spel.
Geschikt voor: 6+
Aantal spelers: 1 tot 4
Speeltijd: 15 minuten
Een andere leuke variant is In een handomdraai.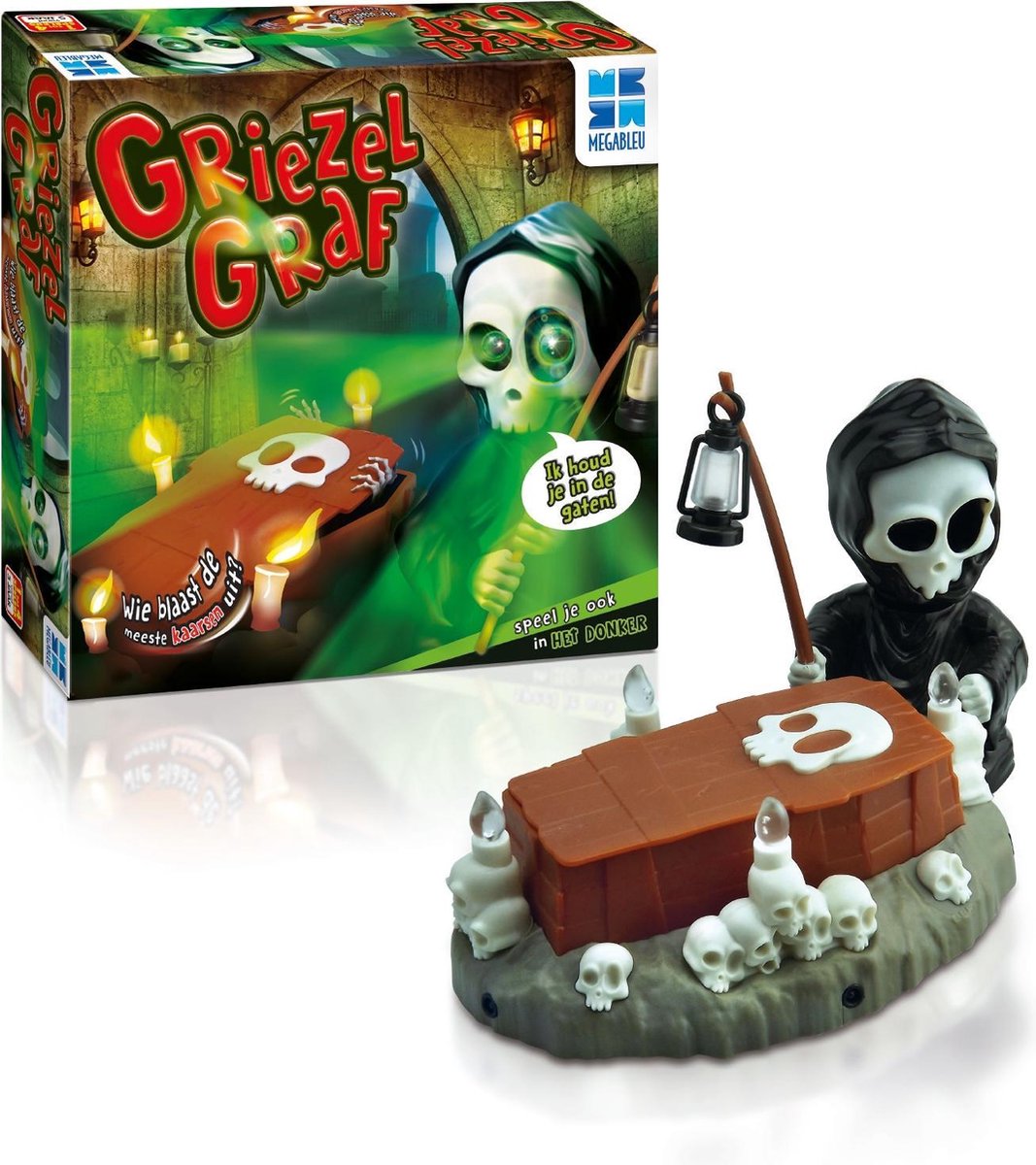 Leukste Halloween activiteiten
Een Halloween feest met angstaanjagende decoratie, verkleding en griezelige spellen is pas compleet met toffe activiteiten. Geef spelletjes een Halloween draai bijvoorbeeld. Niet alleen super leuk maar ook ontzettend waardevol voor de totale ontwikkeling van het kind.
Sensory Play
Maak een sensomotorisch spel van gekookte spaghetti en griezelige accessoires passend bij thema Halloween. Zoals oogbollen, muizen, spinnen en andere insecten. Klik hier voor de uitgebreide beschrijving van dit voorbeeld.
Geblinddoekt voelen en proeven
Creëer een leuke gelegenheid om wat nieuwe smaken te ontdekken en de tastzintuig verder te ontwikkelen. Simpelweg door ze ongezien etenswaren en materialen te laten voelen en proeven. Denk hierbij aan slijm, olijven, maar ook paprika, ananas of schimmelkaas. Wanneer er meerdere kinderen zijn zou je teams kunnen maken waarbij de een geblinddoekt wordt en de ander de antwoorden opschrijft. Achteraf kijk je samen hoeveel er goed zijn geraden en hoeveel punten dat oplevert.
Pompoenen Race
Bij voldoende ruimte is een pompoenen race ontzettend leuk. Gewoonweg door kinderen, geheel in Halloween stijl gekleed, binnen een bepaalde tijd van A naar B te laten lopen met een pompoen op hun hoofd.
Ringenwerpen
Maak er een Halloween variant van en het is een hit! Zo ook ringwerpen. Wie kent het niet. Gezellig, kindvriendelijk en wederom waardevol voor de ontwikkeling van het kind. Win, win, win toch?
Ezeltje Prik
Met een blinddoek om en de staart van een ezel draaien tot je gedesoriënteerd bent en dan de staart op de juiste plek proberen te prikken. Bekend spel dat vaker op kinderfeestjes wordt gevierd. Je geeft het gemakkelijk een Halloween draai door bijvoorbeeld een spin op een spinnenweb te plakken, een wrat op een heks, ogen op het monster of botten op skelet.
Bowlen of blikgooien
Zet 10 versierde plastic flessen, blikken of bekers neer en ga bowlen of blikgooien met kinderen. Een fantastisch spel voor zowel peuters als tieners, helemaal in Halloween stijl.
Lepelrace
Nog zo een heerlijk spel dat met kleine aanpassingen spookachtig leuk wordt. De regels zijn in principe exact hetzelfde als die van een pompoen race. Alleen in plaats van met een ei of aardappel op een lepel te lopen, loop je nu met een oogbal.
Koek happen
Griezelig lekker! Verkleed koek happen was nog nooit zo leuk. Super simpel maar ook super leuk voor peuters, kleuters en oudere kinderen.

Piñata in Halloween stijl 
Piñata vol met snoep en ander lekkers hoort bij echte thema kinderfeestjes en verjaardagen. Pas het aan het Allerheiligenavond, zoals het feestdag ook wel wordt genoemd, en meppen maar. Klik hier voor meer Halloween decoratie voorbeelden met instructies.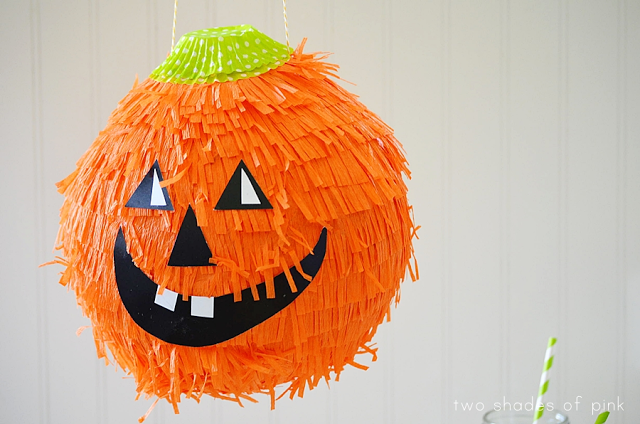 Boter kaas en eieren
Hoe leuk is deze pompoen 3 op een rij variant van boter, kaas en eieren? Super leuk toch? Met 9 pompoenen of sinasappels of mandarijnen, permanente stift en tape heb je alles in huis om het spel te spelen.
Andere Halloween activiteiten voor kinderen
En zo zijn er nog talloze andere ideeën zoals een memory spel, bingo, speurtocht, raadsels raden, spinnenrace en natuurlijk Halloween knutselen met kinderen. Meer inspiratie met voorbeelden nodig, ga naar mijn Pinterestbord Halloween activiteiten kids.