Knutselen rondom seizoenen is voor kinderen altijd weer een feest. Deze vorm van spelend leren is geschikt voor kinderen van alle leeftijden, baby's, peuters, kleuters en zelfs tieners. Verschillende technieken gebruiken zoals bijvoorbeeld knippen, plakken, grijpen, smeren, scheuren, prikken dragen bij aan de ontwikkeling van het kind. Het eindresultaat is onbelangrijk, het gaat om het proces. Want juist daarvan leren kinderen zo ontzettend veel. Zo ook herfst. Ik verzamelde een aantal creatieve 'herfst knutselen met kinderen' ideeën en tips die je thuis, in de opvang of in de klas kunt gebruiken.
Lees ook
15 Sinterklaas surprises | Simpel om zelf te maken
11x leukste Sinterklaasboeken voor groot en klein
120x Halloween knutselen met kinderen
Kerstmis knutselen met kinderen | Ruim 50 super leuke ideeën en knutseltips
Herfst knutselen met kinderen
De herfstboom
Hier een voorbeeld van een appelboom maar waarom niet een herfstboom ervan maken. Je hebt een blauw A4 of A3 papier nodig voor de achtergrond, bruin papier voor de boom een figuur pons voor de herfstbladeren in herfstkleuren en lijm. Afhankelijk van de leeftijd is het juist leuk om kinderen de vrije hand te geven om te kijken wat ze ervan gaan maken. Het kan natuurlijk ook een onderdeel van een knutselwerkje zijn.
De eikels
Met wat begeleiding kunnen ook de jongere kinderen een eikelketting maken. Deze geweldige knutseltip vond ik bij Lady Lemonade. Super leuk om te doen na een herfstwandeling. De kinderen vinden het leuk om daadwerkelijk iets te doen met alle gevonden schatten. Met wat eikels, verf, een schroef, draad, dikke naald, lijm help je de kinderen een eigen eikel ketting te maken. Te gek toch!
De eekhoorn
Voor deze schattige eekhoorn heb je een papieren beker nodig, wat verf, karton, papier en pompoms. Ook dit knutselwerkje is heel goed aan te passen aan de leeftijd van het kind. Ook worden er verschillende technieken gebruikt waardoor het kind en heerlijk bezig is en ontwikkelt terwijl je toekijkt.
De egel
De meeste kinderen zijn dol op kleien. Je kunt er zoveel mee. Zoals deze egel maken. Gebruik bijvoorbeeld pompoenpitten voor de stekels. Je kunt er ook voor kiezen deze door de kinderen te laten verven voor je ze als stekels gebruikt. Het is wel een taakje voor de wat oudere kinderen aangezien de fijne motoriek redelijk verfijnd moet zijn voor dit precisiewerkje.
De dennenappel
Ergens doet het mij een beetje denken aan Barbapapa. Maar met een likje verf, chenilledraad en wiebeloogjes maak je de meest geweldige dennenappel-popjes. Op mijn Pinterestbord vind je nog veel meer fantastische ideeën maar daar kom ik later in het artikel op terug.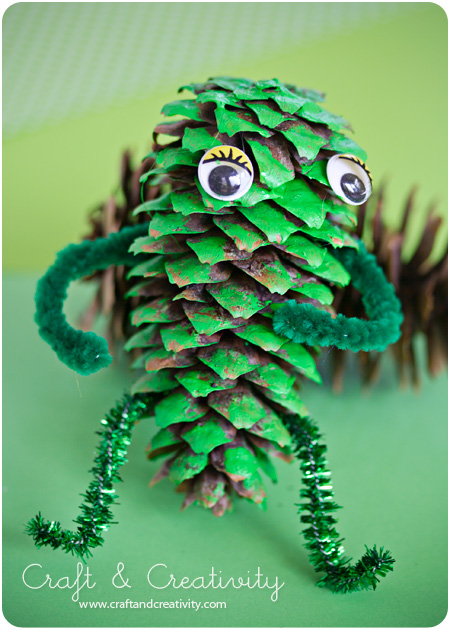 De spin(nenweb)
Combineer kunst met herfst knutselen met kinderen. Je kunt ervoor kiezen waterverf te gebruiken voor het spinnenweb, maar je kunt ook krijtjes of stiften gebruiken. Gebruik de herfstkleuren en maak een spinnetje van papier of chenilledraad bijvoorbeeld.
De slak
Geen idee wat te doen met alle oude cd's en dvd's van vroeger? Gebruik ze om mee te knutselen. Voor deze slak bijvoorbeeld. Gebruik hiervoor herfstkleurige knoopjes of strijkkralen, oude cd's, gekleurd papier en lijm.
De paddenstoel
Creatief met papier. Ik hou ervan. Je kunt het zo simpel maken als je zelf wilt of flink uitpakken. Natuurlijk kun je een 3D paddenstoel maken van een wc-rol, maar je kan ook deze cutie maken. Gebruik hiervoor gekleurd papier of ander materiaal waarmee je een paddenstoel tot leven brengt. Dit kan overigens prima met bijvoorbeeld hout. Op mijn 'Herfst knutselen met kinderen' vind je onder andere voorbeelden van 3D knutsels gemaakt van papier.
De kastanje
Heel leuk om te doen na een heerlijke herfstwandeling met de kinderen. Ze hebben natuurlijk een tas vol herfstschatten gevonden en mee naar huis genomen. Dan willen ze er ook wat leuks mee doen. Het liefst zoveel mogelijk verschillende dingen. Zet wat klei op tafel, de gevonden kastanjes en een aantal takjes en laat de kinderfantasie tot leven komen. Heerlijk!
De paraplu
Heb je geen papierenborden in huis? Geen probleem. Met gekleurd papier, een schaar en lijm kom je een heel eind. Laat de kinderen de paraplu versieren, de regendruppels knippen of tekenen en misschien wat rondvliegende herfstbladeren? Of leg een groot vel wit papier klaar, pak wat herfstachtige sjablonen erbij en laat de kinderen met verf het vel versieren. Haal vervolgens de sjablonen van bijvoorbeeld een paraplu weg en laat de kleintjes lekker verbaasd zijn over het eindresultaat.
De regenlaarzen
Wat vinden de kinderen het allerleukst om te doen in de regenplassen? Juist lekker stampen. Laat ze dit creatief uitbeelden. Wat heb je nodig: Tekenpapier, met water aangelengde verf, een rietje, schaar, lijm en voor geknipte versierde regenlaarzen.
Herfst
Om verder er op in te gaan: ik hou ervan om een idee te presenteren en te kijken wat de kinderen ermee doen. Ze leren er immers zo onwijs veel van wanneer ze betrokken worden bij het proces. Juist wanneer ze de ruimte krijgen mee te denken en eigen ideeën te gebruiken. Zoals hier. Geweldige gelegenheid om met de kinderen te discussiëren over de herfst. Want wat is herfst en wat hoort bij herfst.
Meer (dan 100) fantastische herfst knutselen met kinderen ideeën, tips en inspiratie vind je hier.