Knutselen is zoveel meer dan een leuke bezigheid. De creatieve ontwikkeling van de kinderen wordt flink geprikkeld tijdens het fröbelen. Het is ook heel goed voor de ontwikkeling van de motorische vaardigheden zoals knippen, plakken, prikken, vlechten en ga zo maar door.  Behalve dat het gezellig is om samen te knutselen is het ook heel bevorderlijk voor de onderlinge contacten. Zin om met Kerst aan de slag te gaan om Kerstversiering zelf te maken? Ik verzamelde maar ruim 50 creatieve  tips, ideeën en voorbeelden van Kerstmis knutselen met kinderen van alle leeftijden.
Lees ook
90x Valentijn knutselen met kinderen
140x Lampion knutselen met kinderen
100x Herfst knutselen met kinderen
120x Dieren knutselen met kinderen
Kerstboom knutselen
1. Op Etsy vond ik deze kerstboompjes gemaakt met kaneelstokjes. Met een aantal denneboomtakjes, wat lijm, knoopjes en kaneelstokjes maak je deze Kerstversiering helemaal zelf. En het ruikt nog lekker ook.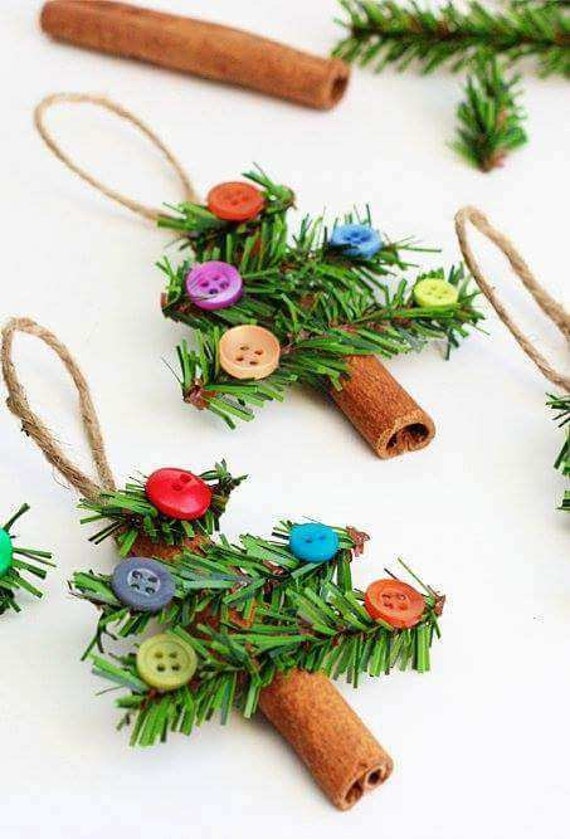 2. Een glitter Kerstboom gemaakt van gekleurde macaroni. Op The Best Ideas for Kids vond ik deze DIY. Heel leuk om met jonge kinderen samen te maken maar ook grotere kinderen zullen dit te gek vinden. Inclusief instructie hoe je zelf gemakkelijk pasta kan kleuren.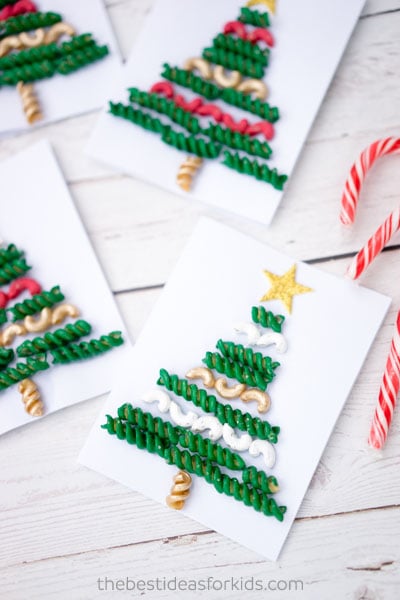 3. Op The Resourceful Mama vond ik deze Kersboom DIY van papier. Ideaal om samen met de allerjongste knutselaars te maken. Meer dan groen papier en wat gekleurde steentjes/knoopjes/stickers in de Kerstkleuren heb je niet nodig. Naast lijm en eventueel een schaar dan.

4. Op Make Film Play vond ik deze Kerstboom van rietjes. Dat is weer eens wat anders, niet? Persoonlijk denk ik dat het leuker is als het met Kerstkleuren groen, rood en wit wordt gemaakt.

5. Een kegelvorminge basis van bijvoorbeeld piepschuim en wol. Voila een toffe Kerstboom. Zelf zou ik toch weer voor een groene boom kiezen maar dat is een kwestie van persoonlijke smaak. Op One Creative Mommy vind je uitleg en meer foto's bij deze DIY.

Kerstman knutselen
6. Op Kidscraftroom vond ik deze Kerstman van papieren bord. Door gebruik van verschillende technieken zijn kinderen met deze creatieve activiteit een tijdje zoet. En wat een leuk resultaat!

7. Op CBC vond ik deze Kerstmannen gemaakt van plastic bekers. Wil je liever geen plastic gebruiken, dan zijn papieren bekers een prima alternatief. Het kind kan het zelf een kleurtje geven met bijvoorbeeld verf. Of je gebruikt keukenrollen.

8. Hoe geweldig is deze Kerstman gemaakt van knoopjes die ik op Cute as a Button Button Art Designs vond?! De jonge kinderen kunnen dit prima uitvoeren onder de nodige begeleiding, maar de de wat oudere kinderen vinden dit ook super leuk om zelf te maken.

9. Gaaf! Op Mrs Picasso's Art Room staat deze leuke Santa. Dat ziet er vrij eenvoudig uit maar ook ontzettend leuk om te maken. Op de genoemde site vind je de instructie stap voor stap met foto's beschreven.

10. Niets is zo leuk dan knutselen met ruimte voor eigen inbreng. Op Simple Everyday Mom staat deze te gekke Kerstman gemaakt van een handafdruk en papier. Super leuk en goed te doen met jong en oud!

Sneeuwpop knutselen
11. IJstokjes zo zeer geschikt als knutselmateriaal. Je kunt er ontzettend veel mee. Zoals deze sneeuwpop maken. Op While he was napping vind je de beschrijving en nog meer creatieve ideeën voor knutselen met ijsstokjes.

12. Een sneeuwpop van propjes papier of krantenstukjes is super leuk om met de peuters en kleuters te maken. Op Crafts on Sea vond ik deze DIY. Uiteraard met een stappenplan.

13. Dit is heel wat anders dan alle andere knutsel in deze blog maar kijk nou hoe ontzettend leuk. Deze knutsel vond ik op Budget 101. Goed te doen met kleuters en oudere kinderen. Je hebt een fles, pot of soortgelijk iets nodig, sneeuwspray en wat textiel, knoopjes etc.

14. Op TheeLiteHotel vind je een heleboel creatieve ideeën om te maken met oude sokken. Zoals deze sneeuwpop. Met wat vulling en fantasie kun je hier bijvoorbeeld ook Olaf van Frozen maken.

Meer Kerstknutsels
15. Op Glowing a jeweled Rose vond ik deze Santa Slijm. Op deze vind je een beschrijving zodat je het zelf kan maken.

16. Op Joysharing staat deze Kerstman met zijn slee vol cadeau. De slee is gemaakt van een papieren bordje en de Kerstman is een uitgeknipte kleurplaat. Simpel en leuk!

17. Op Redtedart staat deze toffe rendier trekpop. Je kunt de template uitprinten, naar wens inkleuren en versieren, uitknippen en met behulp van wat splitpennen en een touw een trekpop van maken. Op dezelfde site vind je ook een elfjes trekpop eventueel.

18.Een papieren beker of wc rol, een zelfgemaakt muizentrappetje en wat fantasie. Dat zijn de hoofdingrediënten voor deze fantastische creatie die ik op Kidscraftroom vond.

19. Kerstklokjes maken van bekers. Simpel met een geweldig effect. Het kan zo in de Kerstboom. Op Klinkers in Beeld staat een uitgebreide beschrijving die bij deze DIY hoort.
Meer knutselinspiratie voor peuters, kleuters, oudere kinderen en tieners vind je hier en in de Facebookgroep Leuk voor kinderen.  Hier vind je ruim 50 ideeën en tips voor Kerstmis knutselen met kinderen van alle leeftijden.
Creativiteit kent geen grenzen. Welke Kerstknutsel wil jij eens maken?