Nu de winter op zijn retour is, mogen de dikke jassen en donkere kleuren weer de kast in. We richten onze pijlen op de nieuwe garderobe voor de lente/zomer van 2022 met een flinke portie feel good en extra veel aandacht voor grote diversiteit in modellen, maten en kleuren. Tijd voor wat frisse wind door de kledingkast.
Color blocking
Zoals altijd voorspellen de felbegeerde ontwerpers achter Versace, Gucci, Prada, Dior, Stella McCartney en Max Mara de grootste trends in 2022. Wat de catwalks voor dit seizoen voorspellen? Color blocking. De trend van 2010 is terug van weggeweest. Met een sterke voorkeur voor felle kleuren. Dat betekent dat je contrasterende kleuren met elkaar combineert. Alles mag zolang de kleuren tegendelen van elkaar zijn. Van een fuchsia top met een gifgroene broek tot een knal roze jurk met oranje pumps. Go wild! Zorg dus voor een aantal items in de trendkleuren in de kast. Color blocking wordt omarmd door lange vrouwen die zo nu en dan ook weleens wat kleiner willen lijken. Maar ook outfits met stippen en strepen mogen weer gezien worden.
Vintage
Wat vooral opvalt dit modeseizoen is het recyclen van oude en bestaande fashion. Dit heeft ook te maken met de duurzame merken die moeite doen om innovatieve, groene oplossingen te vinden voor materialen en productieprocessen. Vintage biedt de uitkomst. Dus wie wat bewaart, die heeft ook wat is een gezegde waar je je nog steeds modebewust achter mag schuilen. Alles uit de jaren '60, '70, 80 en '90 is in. Onder andere de retro minirok, luchtige prairie-jurken en de doorschijnende jurken maken hun comeback. Een toffe combinatie tussen romantiek en elegantie met een vleugje skin. De high waste jeans met hoge taille maken bijvoorbeeld plaats voor de memorabel grote hit uit de jaren '90: de low rise jeans. Voor de heren is pantalon met lage taille de trend. Oh en dankzij dames als Bella Hadid en Julia Fox is ook de blote buik terug van weggeweest.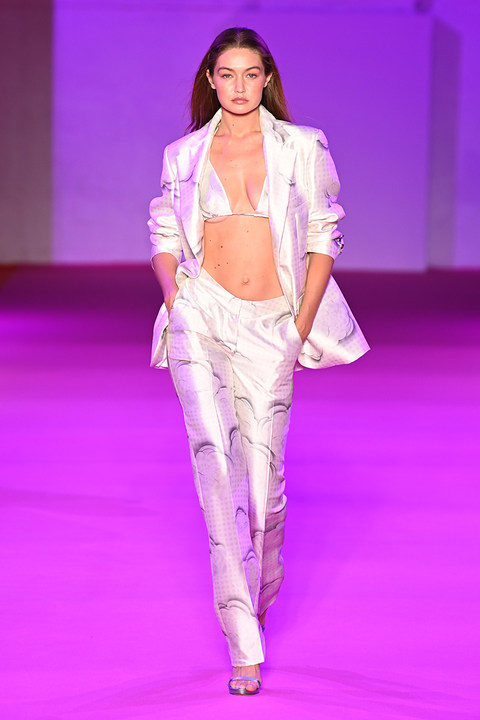 Oversized
The runway brengt voor lente/zomer 2022 nostalgie terug in een nieuw sexy jasje. Korte rokjes, doorschijnende en leren jurken, blote buik en opvallende kleuren. Maar onder de nieuwste modetrends vinden we ook merken die zich volledig richten op oversized kleding dat geen onderscheid tussen de seksen maakt. Een trend die de laatste jaren al een opmars aan het maken is. Waar het om gaat is dat je moet dragen waar jij je goed in voelt. Van dames in heren pakken tot heren in kilt rokken. Van vormloze t-shirt, boyfriend jeans tot oversized blazers, wijde pantalons en grote tassen en zonnebrillen. Het kan! Berg de skinny jeans maar op want de komende tijd geldt 'hoe groter, hoe beter'.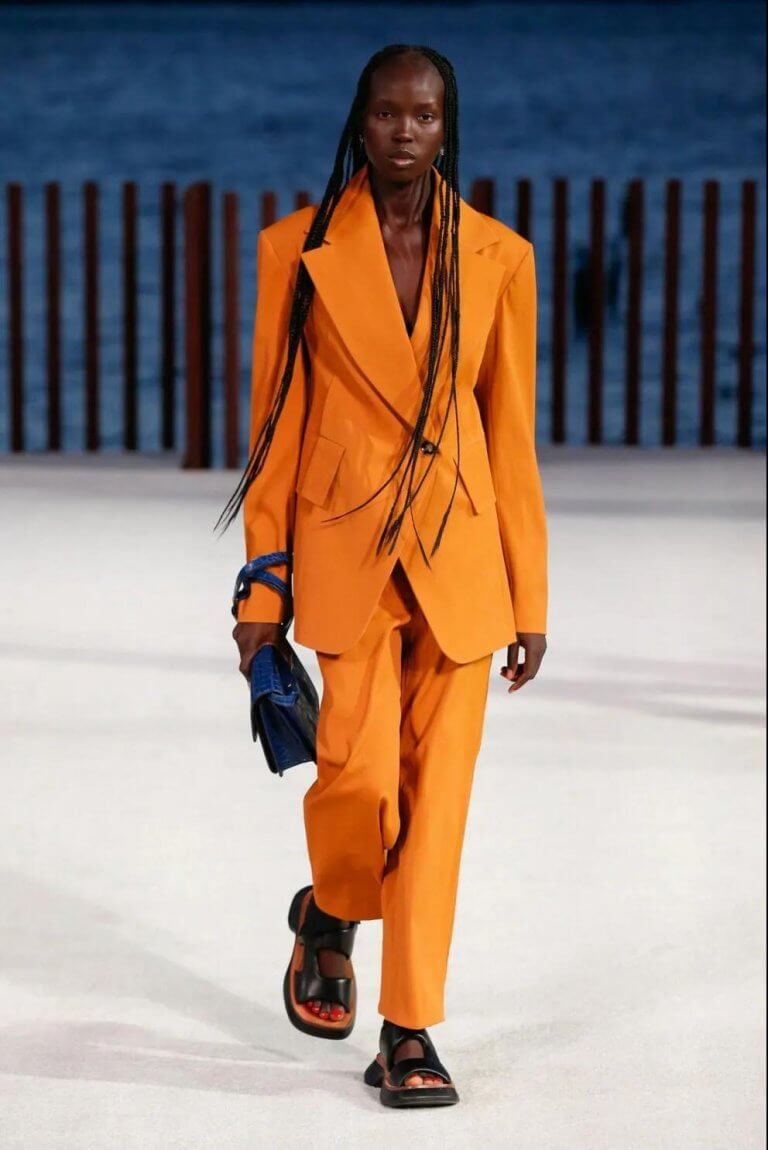 Cut outs
Vorig jaar lente en zomer zagen we al cut outs op de catwalk. Dit jaar zijn ze terug en hoe! Show some skin past in het geheel. Van een speels uitgesneden randje bij de taille of sleutelbeen op een chique lange jurk of een blote rug en schouders tot een top met uitsnede op een pantalon dragen met muiltjes eronder. Er zijn zoveel variaties in allerlei maten en vormen waardoor er een stijl is ontstaan voor iedereen die er oren en ogen naar heeft. Welke beroemde dames zijn er verzot op? Onder andere Kim & Kourtney Kardashian, Jennifer Lopez, Dua Lipa, Rihanna en Anne Hathaway.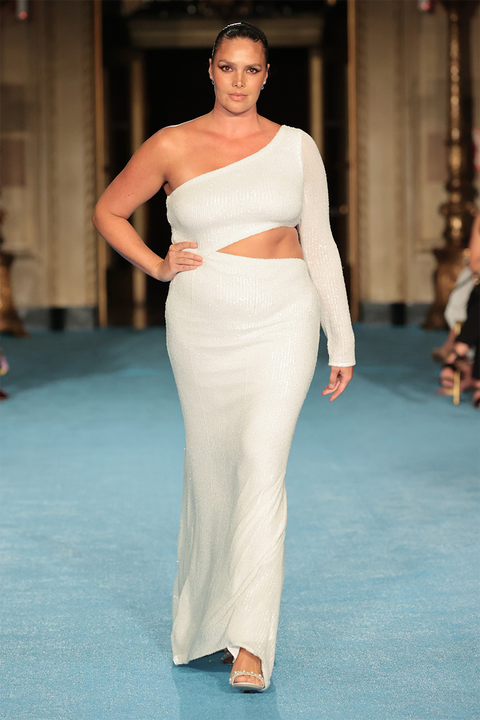 Botergeel
Ben je een liefhebber van pasteltinten? Dan hebben we goed nieuws voor je. Met name in het voorjaar zijn zachte kleuren trendy. Een van de trendkleuren van dit jaar is dan ook zacht, warm en hier om te blijven: botergeel. Het doet denken aan vreugde, zon, energie en hoop. Kortom precies wat we nodig hebben: optimisme en positiviteit. Met een vleugje bescheidenheid voor degenen die niet te veel willen opvallen maar wel kleur in hun outfit willen verwerken. Van crop tops of bikini top met een mini rokje of wijde spijkerbroek tot een kaftan jurk in de zomer, een toffe pak of trendcoat. Het kan allemaal. Onder andere Jessica Alba en Hailey Bieber laten zich hier graag in zien.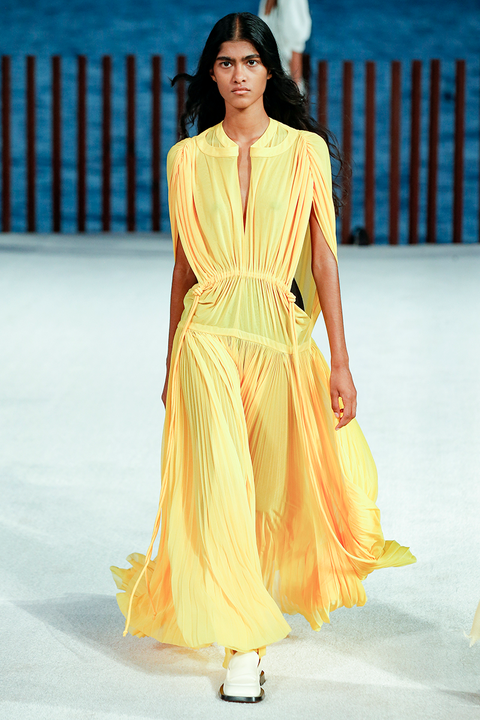 Veren
Misschien wel een van de meest extravagante mode trends 2022: Veren. Op je jurk, jas, broek, schoenen, oorbellen, tas en zelfs pyjama. Dit gigantische fashion statement in de jaren '20 stierf echter bijna af maar wist in de jaren '80 een comeback te maken. Sindsdien zijn veren nooit meer weggeweest. Toch is het nu anders. Geen Venetiaanse kostuums of carnaval achtige taferelen. Dit keer zijn veren meer ingetogen en daarmee geschikt voor alledaagse garderobe.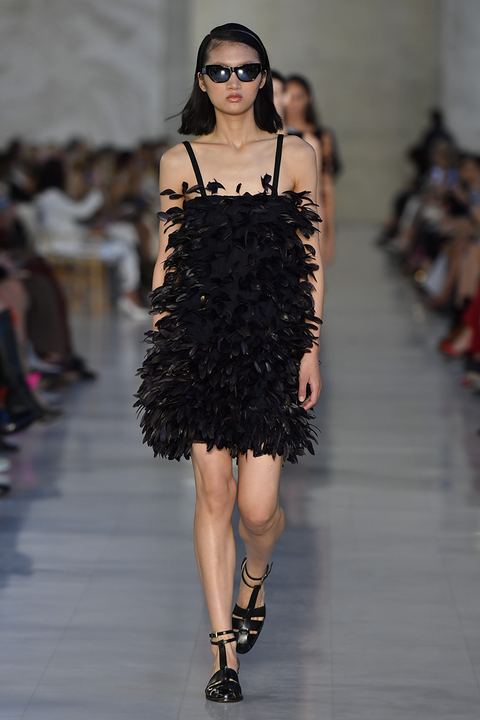 Plooien
Een invloedrijke trend als je het ons vraagt. Dit jaar is er veel aandacht voor bedrukte, glanzende stoffen die doen denken aan de Studio 54 glamour. Geplooide kleding hoort in dit rijtje thuis. Draagbaar, geschikt voor iedereen en goed te combineren met vrijwel elk kledingstuk dat je in je kast hebt hangen. Denk hierbij aan materialen als zijde, satijn, chiffon, maar ook leer. Met name de geplooide midi en maxi rok vliegt de winkels uit.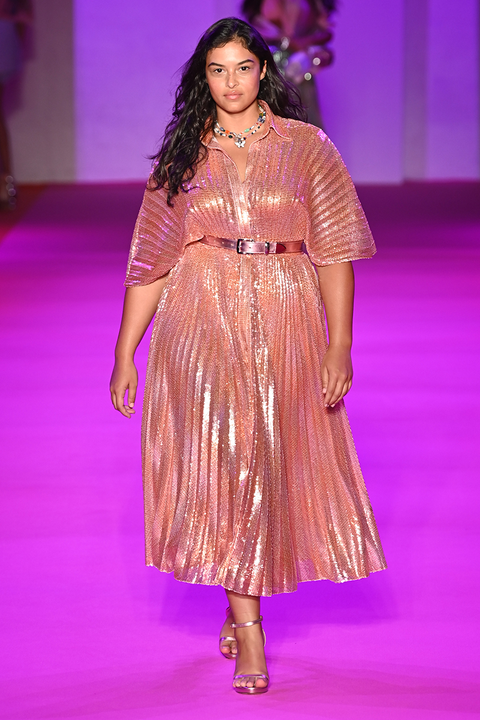 Zomerjurken
Met gezellige barbecues en dagjes uit, swingende feestjes en zonnige vakanties in het verschiet kunnen luchtige jurkjes niet ontbreken in je kledingkast. Wat wil je shoppen? The little black dress, een geplooide maxi rok of jurk en een prairie-jurk met blote rug en schouders of haltertop zijn een absolute must have in de warme maanden. Waarom? Trendy, luchtig, comfy en makkelijk te combineren met andere items en kleuren. Nogal een vereiste voor moeders die zich ook happy willen voelen in hun outfit. Qua accessoires kun je denken aan oversized tas en oorbellen, teenslippers en muiltjes. Houd de trendkleuren wit, botergeel en neonkleuren als roze in gedachten tijdens winkelen. Wat de gelegenheid ook is, met de juiste items ben je zo in een handomdraai klaar. Praktisch en stijlvol mooi!