Squla. Wie kent deze online oefenprogramma niet? De educatieve website en app voor kinderen tot en met groep 8 biedt door middel van ruim 70.000 games en quizen de mogelijkheid om extra te oefenen in alle schoolvakken. Dit leerplatform is een fijne aanvulling op het basisonderwijs, ongeacht het niveau van jouw kind. Inmiddels is de app meer dan 200.000 keer gedownload. Nu, 7 jaar na de eerste uitgave, brengt Identity Games in samenwerking met onderwijskundigen de vernieuwd versie uit van Squla Familiebordspel. Een spannend vraag en antwoordspel voor de hele familie die wij onder de loep nemen.
Lees ook
Leukste dobbelspellen voor kinderen
5 Seconden | Het razendsnelle woordspel voor snelle denkers
Staycation | 500x wat te doen als je niet op vakantie gaat
Inhoud doos
♦ Squla speelbord
♦ 90 vragenkaarten met 900 vragen (15 kaartjes per groep en ouders)
♦ Nakijkkaart
♦ 4 Squla pionnen
♦ 4 Scoreborden
♦ Fiches en boogdelen
♦ 2 dobbelstenen
♦ Spelregels
Squla bordspel spelen
Op de Squla-app gebaseerde bordspel bevat vragen in de categorieën taal (oranje), rekenen (roze), geschiedenis (bruin), natuur & techniek (blauw) en aardrijkskunde (groen). In totaal bevat het bordspel 90 quizvragen over alle vakken verdeeld over 15 vragenkaarten per groep. Inclusief 15 vragenkaarten voor de meespelende ouders. Op deze manier krijgt elke speler vragen op eigen niveau. Doel van het spel is zoveel mogelijk vragen goed beantwoorden en punten scoren.
Speelwijze
Leg het speelbord op tafel.. Kies een pion en zet het op 1 van de 5 keuzevakjes. Wanneer je voor het eerst speelt druk je alle fiches en boogdelen uit de frames. Leg deze zonder te kijken met de punten naar beneden op de aangewezen vakjes op het speelbord. De overgebleven fiches dienen als de pot. De boogdelen leg je naast het speelbord.
De jongste speler mag beginnen. Je bepaalt zelf of je met 1 dobbelsteen of 2 dobbelstenen gooit en het aantal ogen bij elkaar optelt. Hiermee kun je beïnvloeden op welk vakje je wilt landen. Verplaats je pion met de klok mee vooruit. De kleur van het vakje komt overeen met de categorie van de vraag. Wanneer er op het vakje een fiche ligt, mag de speler rechts van je een vragenkaart passend bij jou eigen niveau pakken en de vraag hardop voorlezen. Met de nakijkkaart kun je het antwoord nakijken.
Heb je de vraag goed, dan mag je het fiche pakken en bekijken.
De gebruikte vragenkaarten mogen weer onderaan de stapel. Een fiche uit de pot vervult de lege plek op het bord. Als de pot leeg is, blijft het vakje leeg.
Heb je de vraag fout dan gebeurt er niets en gaat de beurt over naar de speler links van je.
Kies je om een kort spelletje te spelen dan hoef je maar 9 fiches te verzamelen. Anders 12.

Fiches en boogdelen
Om het speelplezier te vergroten zijn er verschillende beloningen tijdens het spelen. Een actiefiche voer je bijvoorbeeld direct uit. Dit kan een plaaggeest zijn, een pechvogel of een mazzelkont.
Plaaggeest – Je mag een zelfgekozen fiche uit het scoreboekje pakken van een andere speler
Pechvogel – Je mag een van je eigen fiches terug in de pot leggen
Mazzelkont – Je mag een extra fiche pakken uit de pot
Een puntenfiche leg je op dezelfde manier in je scoreboekje. Dus op de kop. Je kunt hiermee 1, 2 of 3 punten verdienen. Ook mag je een boogdeel in de kleur van het vak in je scoreboekje leggen, mits je deze nog niet hebt.
Nakijkkaart
De nakijkkaart helpt bij het nakijken van de gegeven antwoorden. Het gekleurde streepje in dezelfde kleur als de vraag geeft het juiste antwoord aan.
De speler met de meeste punten wint
Wanneer een speler zijn scoreboekje vol heeft eindigt het Squla familiebordspel. Hierna wordt de score geteld. Dit doe je door je scoreboekje dicht te klappen en om te draaien om het vervolgens aan de andere kant weer open te maken. Zo kun je de score zien. Tel alles bij elkaar op. Voor een complete boog mag je nog eens +10 bijtellen. De speler met de hoogste score heeft het spelletje gewonnen.
Squla Familiebordspel review
Squla staat voor leuk leren. Het is speels en leerzaam. Leerstof sluit aan op dat van het de basisschool en de leef- en belevingswereld van het kind. Dat is online zo, maar ook bij dit educatieve Squla bordspel. Qua kleuren en vormen maar ook qua uitdagende multiple-choice vragen en interactie tussen de spelers.
Squla Familiebordspel is officieel geschikt voor kinderen vanaf 7 jaar. Dat staat voor groep 4. Dat neemt niet weg dat deze leeftijd een advies is. Het is aan ouders (en leerkracht op school) te bepalen of dat jongere kinderen mee kunnen spelen.
Aangegeven speeltijd van 30 minuten is een richtlijn. Het kan zomaar dat het spel veel langer duurt. Zeker wanneer alle 4 spelers meedoen. Wil je het beter timen, gebruik dan een zandloper bij het spel.
Het gehele spel is gemaakt van karton. Behalve de 4 Squla pionnen. Die zijn gemaakt van kunststof. Door het gebruikte materiaal is het wel belangrijk voorzichtig om te gaan met het uithalen van fiches en andere spelmaterialen. Het is namelijk nog kwetsbaar.
Al bij al is Squla Familiebordspel heel erg leuk en leerzaam. Ben je net zo dol op educatieve familiespellen als wij, dan is dit zeker een leuke toevoeging in je spellenkast.
Squla Familiespel kopen kan via de klikbare foto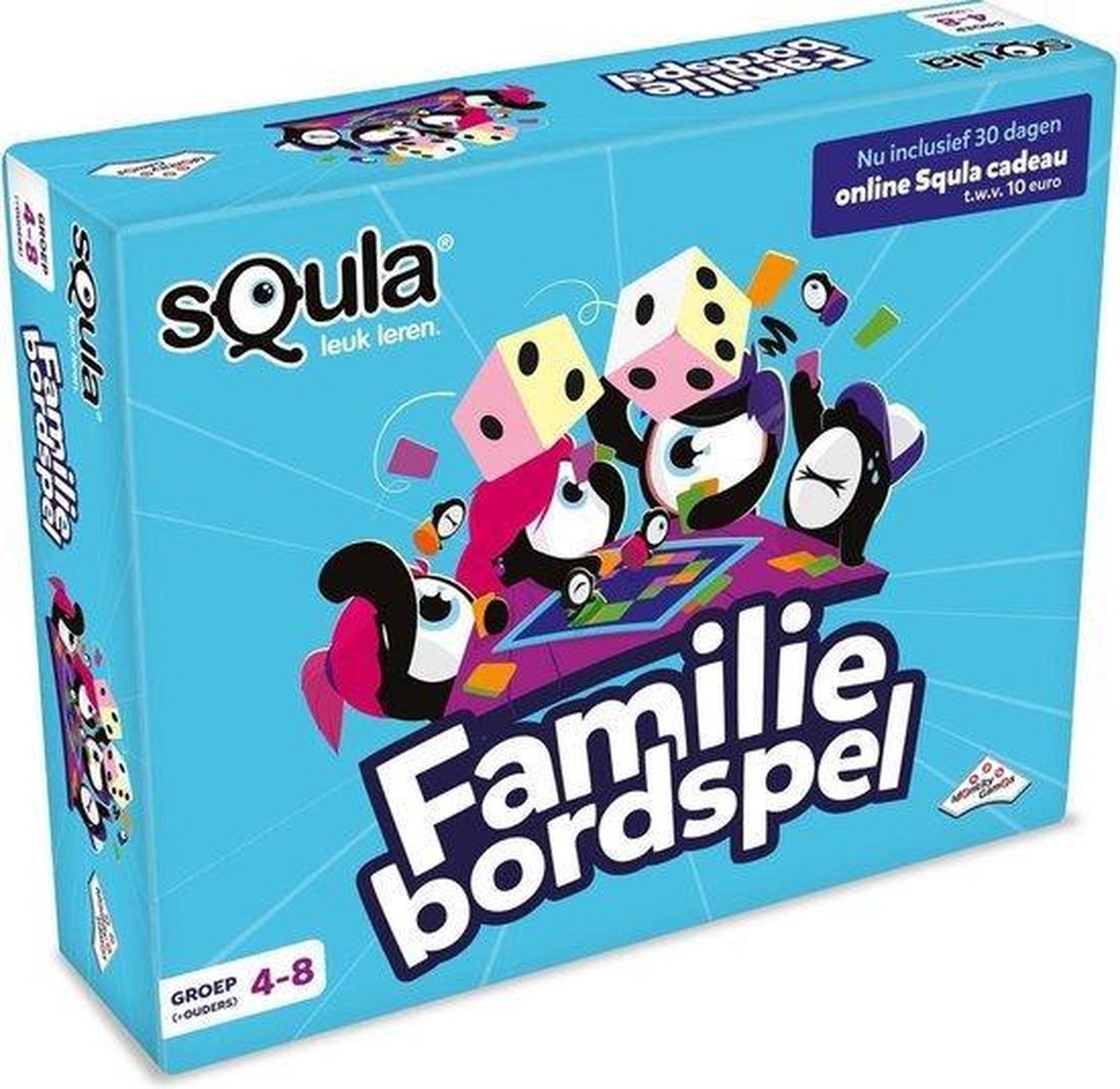 Andere leuke Squla materialen
Squla kaartspel Rekenen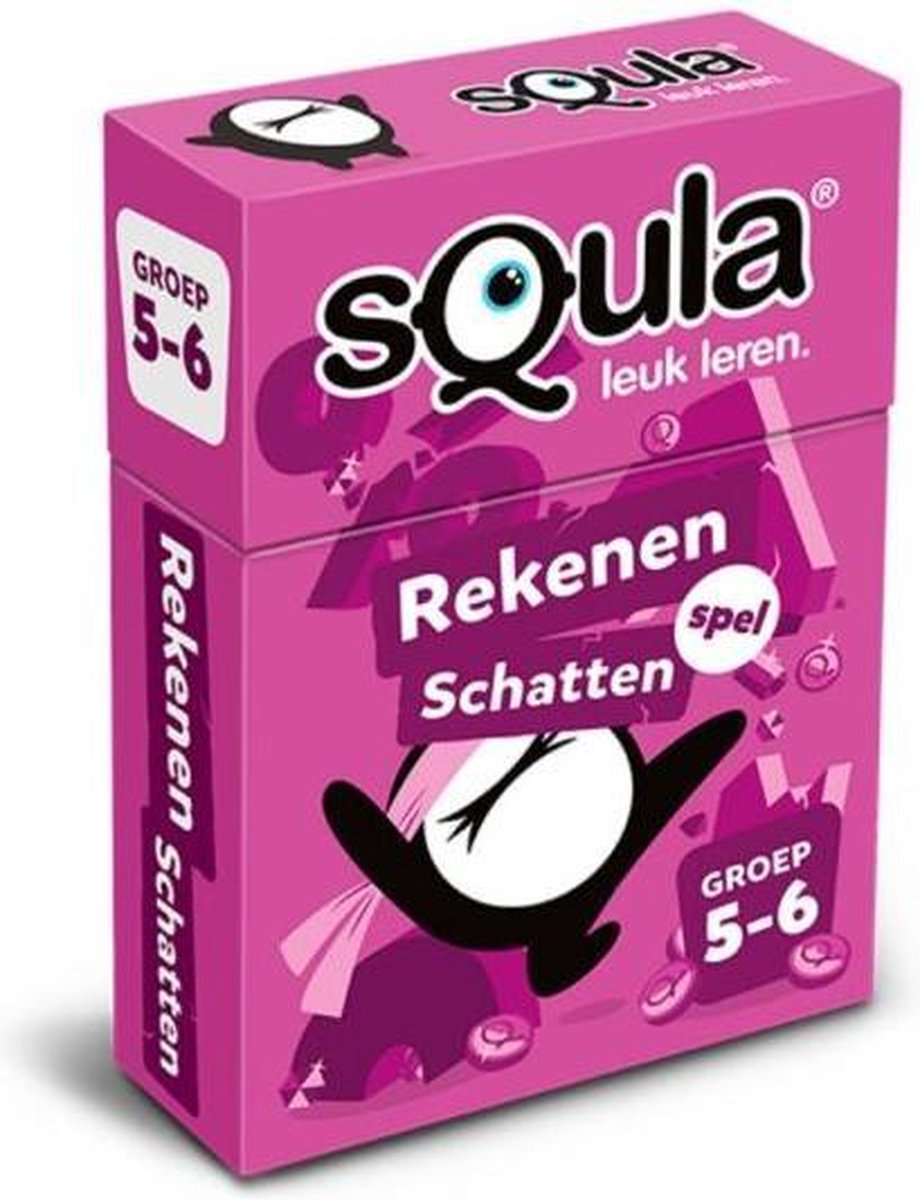 Squla kaartspel Spelling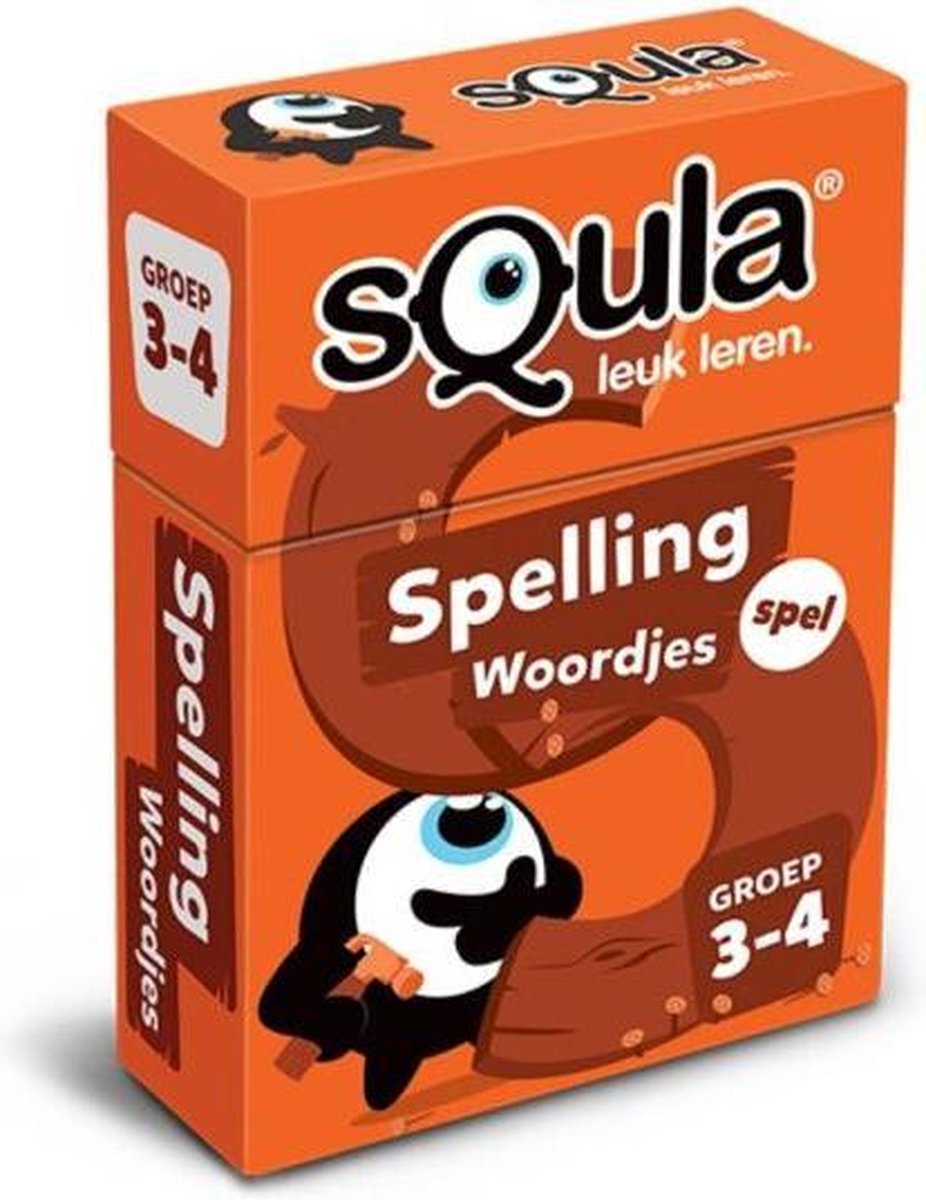 Squla kaartspel aardrijkskunde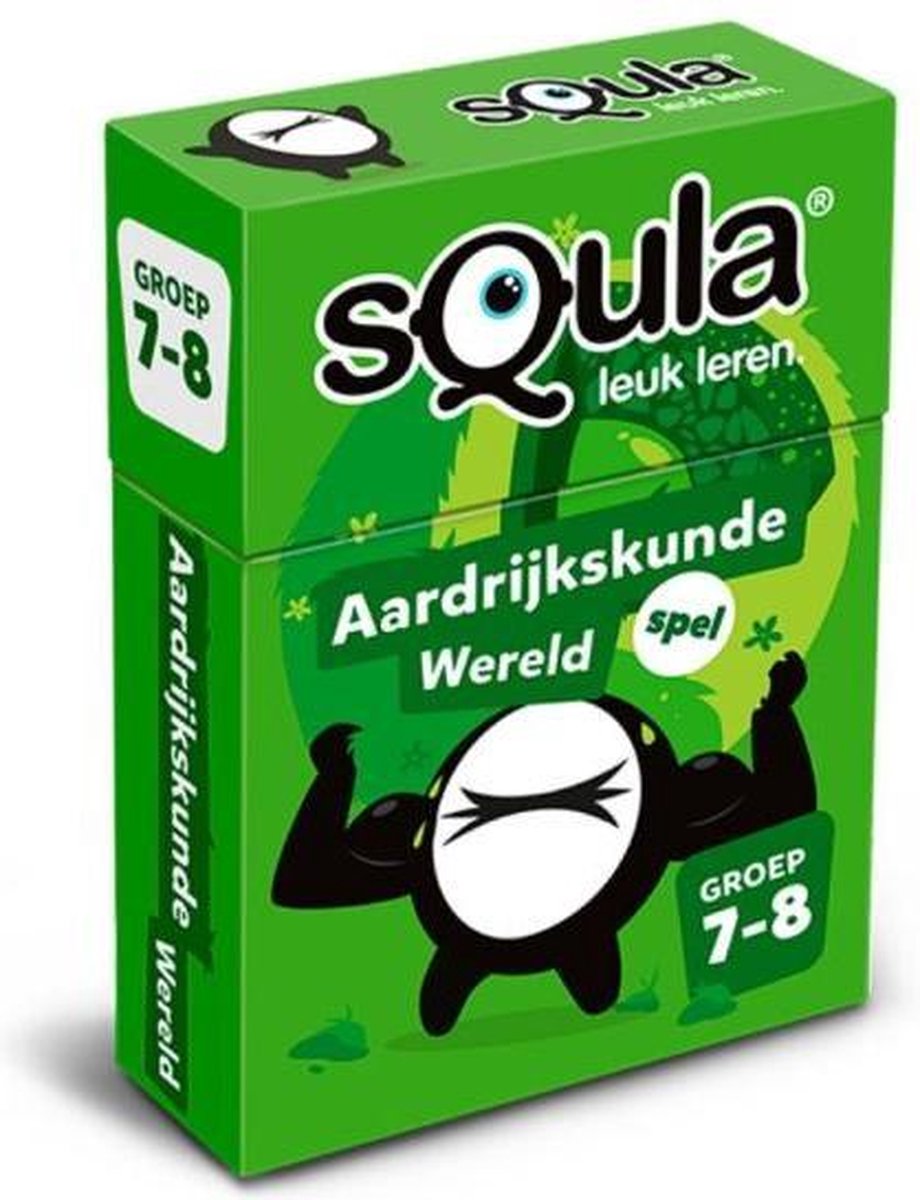 Squla kaartspel Taal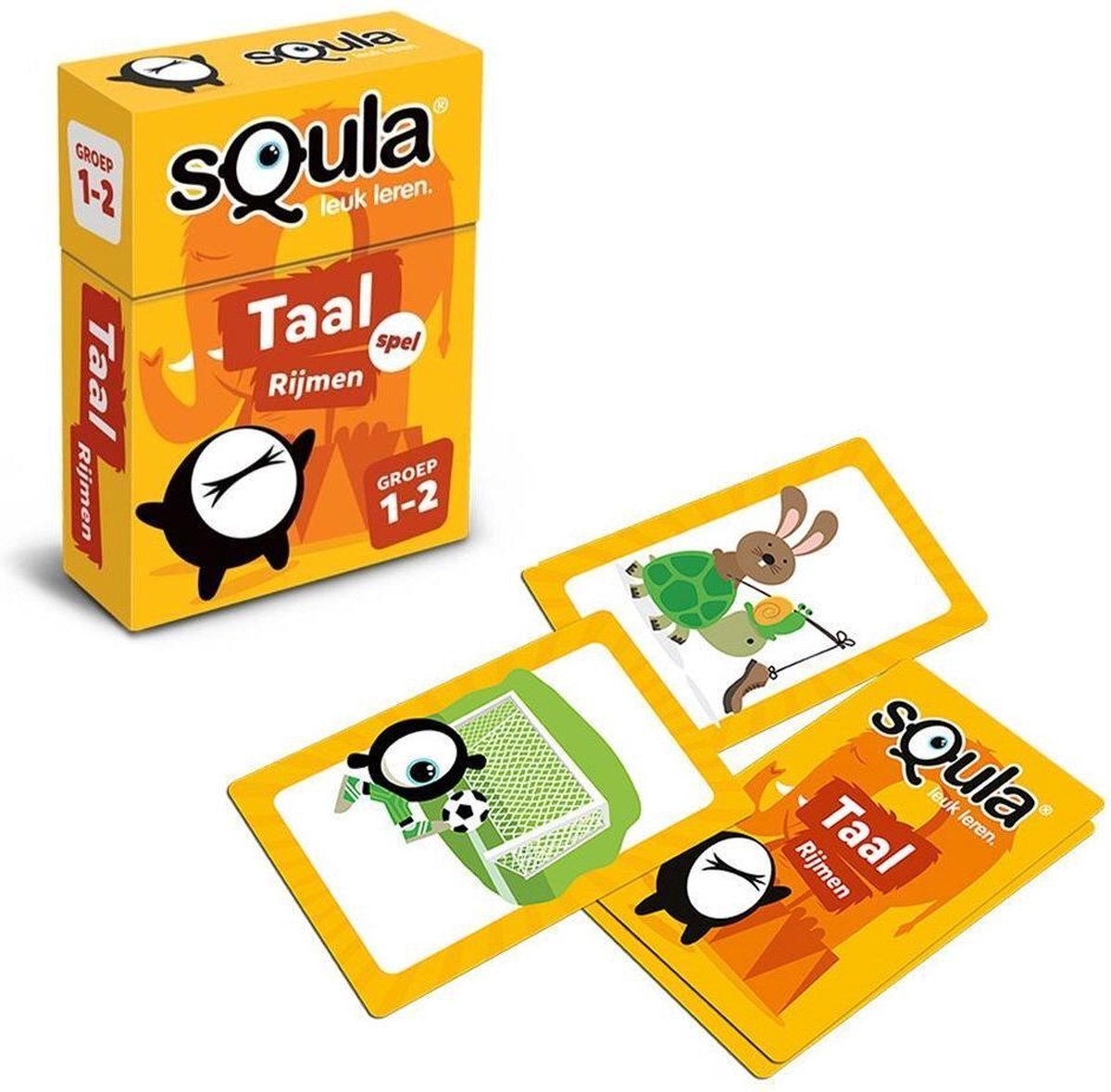 Squla Flitskaarten