Ongeveer 3,5 kilometer van familiepark LEGOLAND staat een bijzondere natuurspeeltuin en klimpark genaamd WOW PARK. De broers Jacob en Aage Hindhede bedachten het avontuurlijke en unieke bosconcept met eigen jeugdherinneringen en liefde voor de natuur als inspiratiebron. Het uitgewerkte idee zag in eerste instantie het licht in 2013 in de vorm van WOW PARK Skjern. Het avonturenpark met bijna 40.000 jaarlijkse bezoekers bleek een daverend succes. Zodoende kwam er een tweede speelpark bij, dit keer 3 maal zo groot: WOW PARK in Billund. Een 40 voetbalvelden groot stuk bos waar jong en oud zich uitstekend kan vermaken met de ruim 100 speelactiviteiten.
Het avontuurlijke WOW PARK Billund
In Nederland hebben we ook veel natuurspeeltuinen, klimparken, speelbossen, kinderboerderijen, wandel- en belevingspaden en natuurlijk oerprovincie Drenthe. Maar niets is zo buitengewoon compleet als dit stukje Billund, ook wel bekend als the capital of children. Denemarken is sowieso een duurzaam land met veel liefde voor rust, respect voor de natuur en elkaar, maar ook buitenspelen in de frisse lucht. De creativiteit, aandacht en tijd dat er is ingestoken om van WOW PARK te maken tot wat het nu is, is goed zichtbaar. De speeltuin werd gebouwd met maximaal respect voor de natuur onder het motto 'nature was here first'. De broers Hindhede wilden het beste van vroeger moderniseren om peuters, kleuters, oudere kinderen en tieners te motiveren de schermen vaker links te laten en meer te bewegen, weer durven vies te worden, ontdekken en spelen. Daarnaast willen ze ouders stimuleren vaker mee te spelen, omdat je er nooit te oud voor bent. Niet voor niets werd de plek door de Britse Krant The Guardians uitgeroepen tot een van de meest toonaangevende en duurzame gezinsattracties van Europa. De fantasierijke plek waar gezinnen met wildebrassen van 2 tot 102 eindeloos plezier kunnen maken, ontdekken en ravotten.
Wat is er allemaal te doen?
Het mooie aan WOW PARK is dat het vanaf de ingang al een omgeving is dat uitnodigt om te komen spelen. Elk heuveltje, hobbel of stok is een speeltoestel. Ondanks dat de plek werkelijk gigantisch is, is actief spelen hier super fijn en veilig. Wachtrijen zijn er niet. Luidruchtige taferelen ook niet. Daar is het park te ruim voor opgezet. Juist omdat het speelbos en klimpark in de corona-tijd haar deuren opende, is het uitgebreid getest. De input werd gebruikt om een dagje uit hier nog prettiger, aangenamer en veiliger te maken ongeacht de omstandigheden. Kortom ook als ouder kun je hier meespelen, maar ook relaxen en genieten. Wij zijn er twee maal een hele dag geweest. Dus echt van openings- tot sluitingstijd. Waarom? Het werd ons vrij snel duidelijk dat dit geen 'paar-uur-uitje' is. Daarnaast is de sfeer en rust erg aangenaam waardoor het als vakantie voelt. Natuurlijk heeft vriendelijk personeel daar veel invloed op, maar die zijn niet overal en altijd bij activiteiten aanwezig. Dat is ook niet nodig. Vrijwel alle activiteiten zijn heel goed zelfstandig te doen of stimuleren een gezin nader tot elkaar te komen. De grote netten met reusachtige stuiterballen, in de bomen klimmen, van de glijbanen roetsjen, ontdekken…Onze meiden van 7 en 8 hebben de tijd van hun leven gehad. Stiekem vonden ze dit een veel leuker uitje dan LEGOLAND. En om heel eerlijk te zijn: Wij ook! WOW PARK Billund is absoluut de moeite waard en voor herhaling vatbaar. Kom daarom op tijd want bij sluitingstijd heb je ongetwijfeld nog niet alles gezien of gedaan, maar wel super tevreden en vermoeide kinderen. Blijf je langer in de omgeving en wil je hier vaker heen, dan is een seizoenkaart een goed idee. Wat er allemaal te doen is?
♦ Klim naar de boomtoppen
♦ Ren via de 14 meter hoge hangbrug van de ene naar de andere boom
♦ Speel in de boomhutten en geniet van het uitzicht
♦ Probeer de 40 meter lange rodelbaan uit of een van de andere varianten
♦ Roetsj van de reuzeglijbanen af
♦ Reik naar de sterren op de tarzan-schommel
♦ Speel in een 300 vierkante meter grote boomnet met giga stuiterballen
♦ Speel met water, verplaats dijken, voorkom of creëer overstromingen en watervallen
♦ Ontdek de ondergrondse schuilplaatsen, tunnels en grotten op je handen en voeten
♦ Stel je richtingsgevoel op de proef in het wilgenbos of de houten doolhof
♦ Speel samen het oude Vikingspel
♦ Daag elkaar uit tijdens een potje voetbalpoolen
♦ Leg een klimparkour af (of doe ze allemaal)
♦ Ga samen ravotten in de speeltuin
♦ Test je evenwichtsgevoel bij een balansspel
♦ Ren over een springkussen gevoeld met water, ook wel waterkussen genoemd
♦ Aai en knuffel de lieve geitjes
♦ Neem zelf eten mee en ga samen lunchen aan een van de grote, houten picknicktafels
♦ Zit samen om het(kamp) vuur om marshmallows, popcorn of brood te roosteren 
♦ Ga met elkaar barbecueën
♦ Volg een creatieve knutsel workshop en neem de zelfgemaakte creaties mee naar huis
♦ Chill in een van de hangmatten
♦ Ga aan de wandel door de speeltuin (je haalt met gemak je 10.000 stappen) en probeer alle verborgen schatten te ontdekken
♦ Eet een hapje in het mooie restaurant of een Deens ijsje bij de ingang
Tekst gaat onder de foto's verder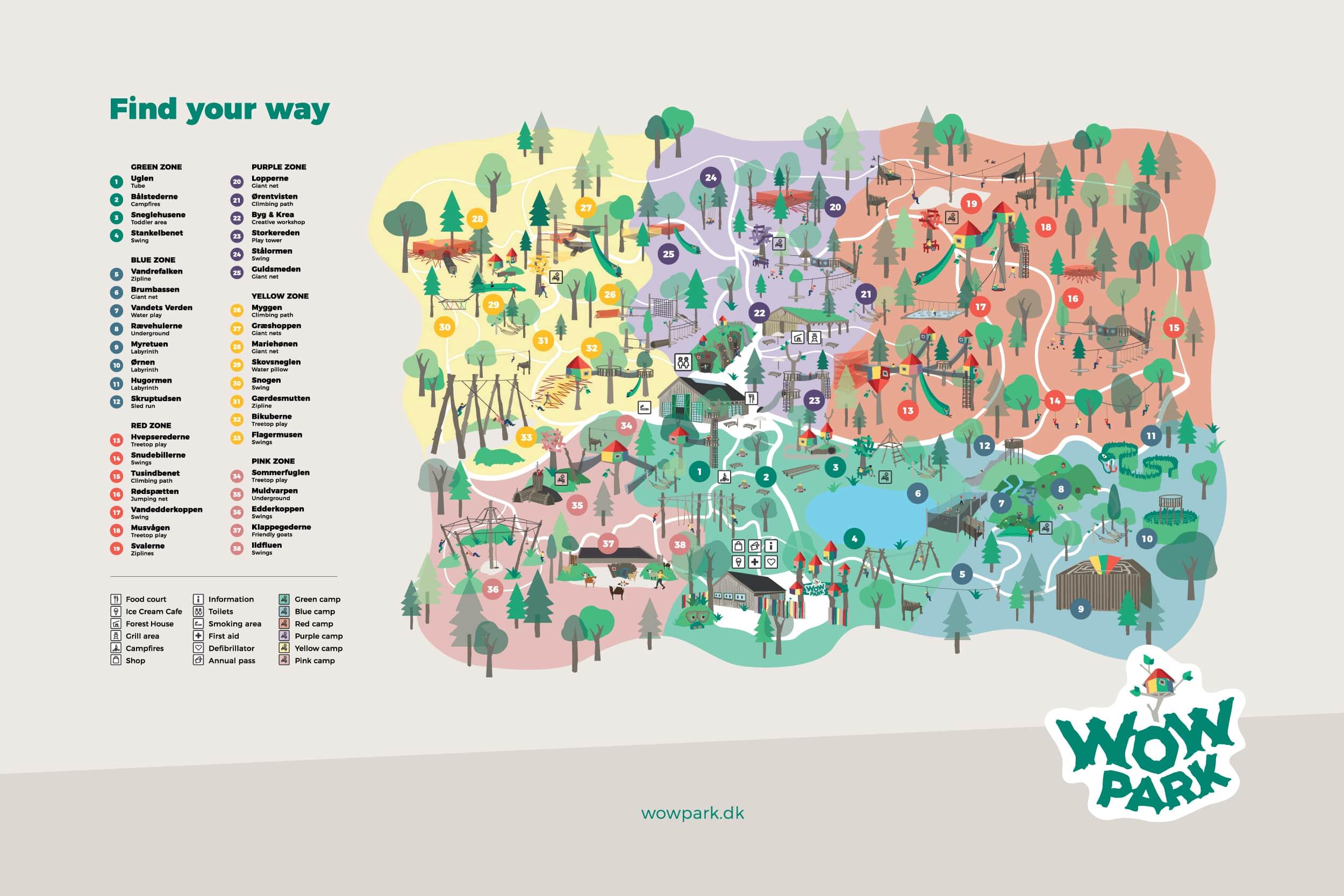 Praktische informatie
♦ Adres WOW PARK Billund
Havremarken 15
7190 Billund
♦ Check de website voor actuele openingstijden
♦ Kinderen tot 3 jaar hebben gratis toegang. Vanaf 3 jaar betaal je 199 DKK online en 219 DKK aan de kassa (Het loont dus om de tickets online te kopen)
♦ In principe zijn de toiletten vrij centraal maar op 1 plek te vinden: Nabij het restaurant. Binnen zijn er genoeg toiletten en is het schoon (en mooi)
♦ Je mag je eigen eten en drinken meenemen
♦ De ruim opgezette parkeerplaats is gratis
♦ Oude kleding dat vies mag worden en stevige speelschoenen zijn een aanrader
♦ Hoewel het klimpark grotendeels schaduwrijk is, is er ook een groot deel dat volop in de zon staat. Het kan verstandig zijn hiermee rekening te houden en bijvoorbeeld zonnebrand en pet of hoed mee te nemen
♦ Reken op een fantastische dag, maar houd rekening met erg vermoeide kinderen na zo een actieve dag buitenspelen